Proven ways to market your small business using social media

Social media can be an absolute goldmine for your business. IF you do it right. Unfortunately, most small businesses waste countless hours trying to make it work – because they just don't know the keys to huge success.
Here's an example. A client of mine, Lynne, runs a small business selling beauty products online. Business was pretty average UNTIL I showed her 3 simple Social Media strategies that she could apply immediately, in just 20 minutes a day. The result? Over 7,253 new leads into the business in just 2 months. Already that's translated into $24,562 in extra sales, and still climbing.
Would you like to know how she did it?
Then register NOW for my 2hour, Nothing-Held-Back Social Media Training…
…where I'll show you 11 proven ways to generate thousands of dollars in extra income, and get an endless supply of hot leads into your business, by using Social Media the right way!
(Note: if you can't make it to this one, please click here to register your interest in attending future events)
Will this workshop help you and your business? Take this Quick Quiz to see where you're missing out:
Do you know how to rapidly generate hundreds of hot leads a day for your business by using FREE Social Media Marketing? Techniques like Facebook competitions, Facebook events, and the new Google+ features that will help you get to the top of the search engines

Do you know exactly what to say and how often to post, on Facebook, LinkedIn, Twitter and YouTube? (The message you use on each of these needs to be very different – get it wrong and you can really put people off)

Do you know how to use Social Media to get the most income in the shortest time, without breaking Social Media etiquette? Come across as too "salesy" too soon and you'll have thousands of people bagging you instead of buying from you!

Do you know how to generate thousands of dollars in extra income for your business, spending less than 20 minutes a day on Social Media? You've probably heard horror stories of business owners wasting hours every day for very little return. You absolutely MUST know what you're doing to get the best return on your time.

Do you know how to rapidly grow your online presence organically (ie for FREE)?

Do you know how to easily track the success of your Social Media campaigns, so you know what to cut, and what to do more of? The Social Media platforms have some incredibly powerful, easy-to-use but LITTLE-KNOWN reporting systems. You'll beat your competition hands down if you use them.

Do you know the best ways to turn your followers into money in the bank? Come on too strong and you'll just put them off. Too soft and you'll never make a sale. Like Goldilocks, you've got to get this bit JUUUST RIGHT!

Are you selling B2B? I'll show you a little-known strategy that uses Social Media to get past the gatekeeper and to the decision maker every time. How would that improve your sales?

The quickest way to get results with Social Media is to become a Centre of Influence in your market niche. Do you know the fastest, easiest way to do this? Using this technique you can easily compete with much larger businesses – and you don't need their massive marketing budgets to do it!

Are you concerned that Social Media will take up too much of your personal time? Or that outsourcing or delegating will mean that you lose control of what's being said about your business? I'll show you my simple proven formula that gets you massive results in under 20 minutes a day, and shows you exactly what to outsource so you retain a personal touch, without wasting your precious time.
Are you excited to learn these things?
Then register NOW for my 2hour, Nothing-Held-Back "How to Use Social Media as a Lead-Generating Sales Machine" workshop.
(Note: if you can't make it to this one, please click here to register your interest in attending future events)
So who am I? I'm Kerry Fitzgibbon. I'm a Certified Social Media Strategist, and I LOVE working with Australian and New Zealand business owners to help them get the most out of Social Media. To help you get to know me more, here are some comments from some of my clients: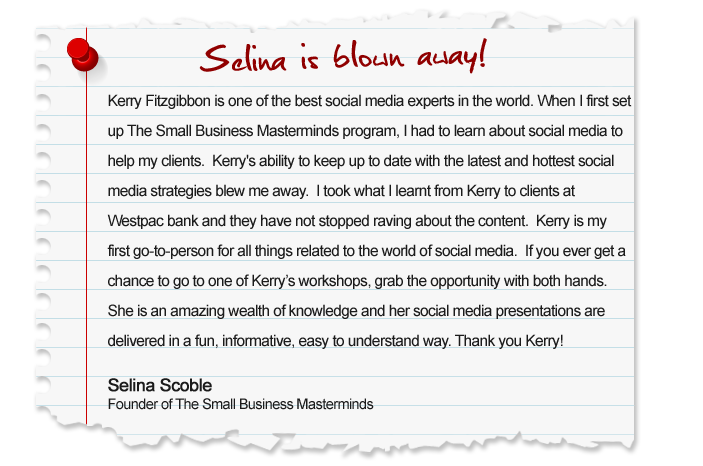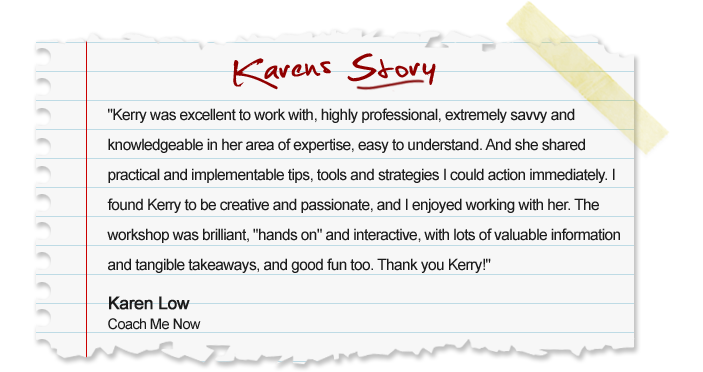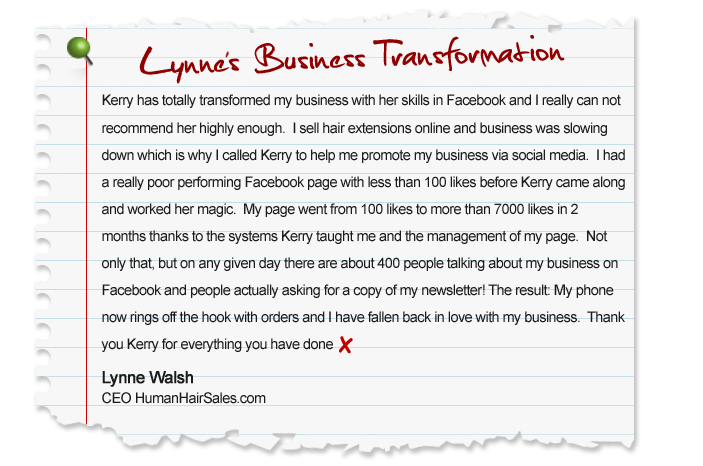 You've probably gathered by now, this is NOT Your Average "Social Media" Program. It's certainly NOT one of those "Learn How To Get More Fans but Not Make Any Money" programs!
Not at All.
You'll walk out of this workshop with practical strategies you can implement straight away to grow your business through Social Media.
You'll see how you CAN get real results and make money from Social Media without having to pay for expensive ads in newspapers, magazines or television.
Register Now and you pay just $20 (the workshop is valued at $597).
When and Where?
When: Thursday 12th July 2012
Where: Hamilton District Skills Centre
– Mt Baimbridge Road, Hamilton
Time: 6 – 8 p.m. (replaces previously advertised Breakfast)
Cost: Members free – Non Members $20.00 Normally $47.00
Light refreshments provided.
See you there!

Kerry Fitzgibbon